So you took a tomato class with our Cynthia at Love Apple Farms, and your backyard garden is now full of delectable heirloom tomatoes of all varieties.  Now come and learn how to make the best of your harvest, from the savory to the sweet.  Yes, we said sweet: the tomato is a fruit after all!  (Even if you missed a tomato garden of your own this season, there will be plenty of delicious tomatoes available at your local farmers markets.)

Let Pim Techamuanvivit from the highly popular food and lifestyle website, ChezPim, teach you how to make a simply spectacular tomato-parmesan tart, how to preserve your season with a savory tomato confit and a sweet tomato jam (or two).  You'll finish with Alain Passard's famous stuffed tomato dessert: tomates confites aux douze saveurs.
Pim is no longer teaching at Love Apple.  She has opened a restaurant in San Francisco called Kin Khao.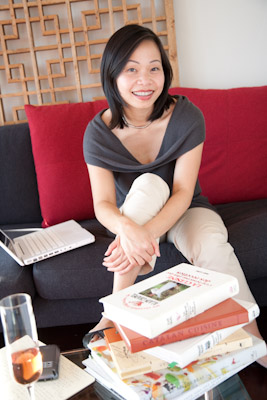 Please review our cancellation policy in case you are not able to attend your scheduled class.
Sign up for our newsletter to receive updates on new classes, planting tips, free give-aways, and more exclusive content.
If the workshop dates don't work for you, if the class is full, or if you'd like to request that another class be added, please email us and we'll do our best to accommodate you.
Love Apple Farms gift certificates can be usedtoward classes, seedlings and merchandise. They are available for purchase here.
Check out other classes at Love Apple Farms.