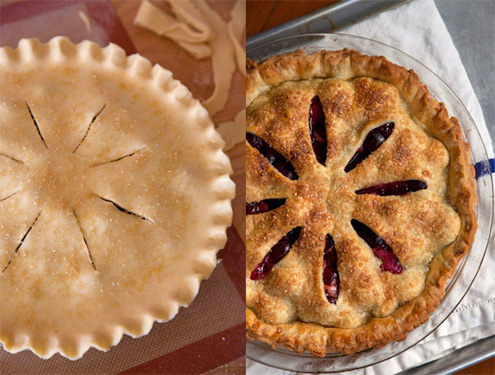 Few things are as intimidating to home bakers as pie crust can be.  Let Chez Pim help you demystify the art and science of baking beautiful crusts.  She will demonstrate several different types of dough for us, including basic pie dough, dough for a sweet tart, dough for a chocolate crust, and dough for a nut crust.  You will gain the confidence to experiment with different fillings and crusts, and never ruin another pie crust again!  
Chez Pim is famous for her pies and tarts, just see what Bon Appetit Magazine has to say about them.  This hands-on workshop will give you ample opportunity to practice under Pim's watchful eye, so bring your rolling pin and be prepared to finally learn how to roll the perfect dough!
To view our 2013 Pie class, click here.
Pim is no longer teaching at Love Apple.  She has opened a restaurant in San Francisco called Kin Khao.
Pim is the author of The Foodie Handbook: the (almost) definitive guide to gastronomy (Chronicle Books 2009). Her popular blog, Chez Pim, sets forth her globetrotting adventures –and misadventures- in the world of all things edible, from her own kitchen in Northern California, to the vibrant street-side fares in Asia, and the refined world of Three Michelin Star restaurants in Europe. Raised in a family of foodies in Bangkok, Pim comes from a diverse and wonderful culinary background. Pim's recipes, writings, and photography have appeared in the New York Times, Food & Wine Magazine, and Bon Appetit magazine. The Guardian UK ranked Chez Pim one of the world's 50 most powerful blogs. Fast Company also named Pim one of the most influential women in Technology in 2010.
Workshop is held at Love Apple Farms, 2317 Vine Hill Road, Santa Cruz, CA
---------------------------------------
Please review our cancellation policy in case you cannot attend your scheduled event.
Subscribe to our newsletter to receive updates on new classes, planting tips, free give-aways, and more exclusive content.
If the workshop dates don't work for you, if the class is full, or if you'd like to request that another class be added, please email us at loveapplefarm@gmail.com to let us know and we'll do our best to accommodate you.
Love Apple Farms gift certificates can be used toward classes, seedlings and merchandise and are available for purchase here.
Check out other classes at Love Apple Farms by clicking here.